Freight Services
> Crown International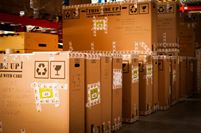 Crown offers a single-source solution to and from any point in the world. Our forwarding services estimates all cost and on time delivery probabilities for each transit segment to ensure the most cost efficient and on-time delivery.


Air Freight Services
Crown is an indirect air carrier with IATA-certified Hazmat trained employees capable of handling your time-sensitive cargo. We forward air shipments to every corner of the globe on a daily basis. We provide a complete package of air logistics services through our global network of experienced professionals and state of the art tracking technology

Air Charter Services
Crown has chartered hundreds of specialized aircraft on behalf of our clients. Crown has in depth knowledge of the global aircraft market and the dozens of different aircraft available. We ensure the right aircraft are utilized fitting the cargo, destination and budget for each client.
Ocean Freight Services
Crown is a licensed Ocean Transportation Intermediary (OTI) and NVOCC and is uniquely positioned to handle all aspects of your shipment from inception to completion. We offer a full range of ocean related services including Ocean Forwarding, NVOCC Consolidation, and LCL or FCL container management. From flat racks, twenty-foot and forty-foot containers to high-cubes, Crown International understands client needs.
Ocean vessels operate on regularly schedule routes; however, many destinations are not on regularly scheduled routes. Typically, these ocean vessels are smaller and more specialized to handle out-of-gauge cargo. Crown has in depth knowledge and global availability of such charters.
Trucking Services
Crown offers TL (truckload) and LTL (less-than-truckload) services. With our experience and vast network, Crown is able to provide dedicated fleets, rail service and other client specific/project specific trucking services. In the U.S. and in Europe, knowledge of oversized and out of gauge trucking permitting procedures and transit regulations are critical to on time performance. Overseas, especially to developing country project sites, the specialized trucking equipment required for transit of heavy and out of gauge cargo can be scarce. Intimate knowledge of specialized trucking capabilities is another aspect of Crown services our clients depend on.
Oversized and Out-of-Gauge cargo
Proper planning and execution of oversized and out of gauge shipments can save thousands if not hundreds of thousands of dollars over the life of a project. Crown provides the necessary expertise and infrastructure to manage oversized project cargo movements from origin to destination. From high kilowatt generators and construction equipment to oil drilling and delicate telecommunications equipment, you can trust us to move your cargo safely and efficiently.
Temperature Controlled Shipments
Crown provides comprehensive logistics services for cargo which requires temperature controlled conditions during transport. From perishable produce to sensitive medical and pharmaceutical shipments, we possess the necessary knowledge to assure the safe delivery of your cargo.
Destination Services
Crown offers worldwide service, operating in over 110 countries. Our hand-picked partners are the most savvy; offering cost-efficient service and familiarity with all local procedures including duty-exempt customs clearance. Crown management regularly visits these partners to maintain our strong business relationship.
Insurance
Crown is able to provide comprehensive all-risk cargo insurance to all areas of the world. We are one of the few companies in the world able to consistently obtain blue-ribbon war-risk underwriting from the most prestigious and well-known underwriters in the world.