Crown International
> About Us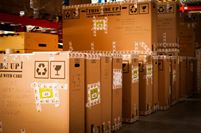 Crown International is professionally managed Freight Forwarding and Logistics Company based in Dammam, Saudi Arabia with its branches in Jeddah and Riyadh.

We have our presence in India (Hyderabad & Delhi), UAE (Dubai) and very soon in USA, Singapore and China.
For several destinations worldwide and we have entered into exclusive global agency agreements with well established reciprocal partners. Crown international has expanded consistently since its inception building a global network of reciprocating brokerage and freight forwarding agencies.

Crown International Diversified Services
Industrial Waste:
Specially authorized for handling waste products in middle east
Mill Scale from reputed steel Industries:
Hadeed Steel Plant - Jubail
Hecket Multiserve - Jubail
Al Tuwairqi Group - Dammam & Jeddah
Al Rajhi Steel - Riyadh & Jeddah
Sulb Steel Company - Jubail & Bahrain
Qatar Steel - Doha, Qatar
SULPHUR:
ARAMCO
Berry Gas Plant
Aluminium Ingots:
Hecket Multiserve - Bahrain
Electrodes Graphites:
Hadeed Steel Plant - Jubail
Hecket Multiserve - Jubail
Al-Tema Contracting & Industrial Services Ltd. Company - Jubail
Shredded Aluminium / Aluminium Scrap:
Hadeed Steel Plant - Jubail
Hecket Multiserve - Jubail
Dry fine / Iron Slag:
Hadeed Steel Plant - Jubail
Hecket Multiserve - Jubail
Miscellaneous Scrap:
PVC
PET Bottles
Cartons
Fine Iron Oxide
Stainless Steel scrap
Used Steel & Pipes
Freight Forwarding - Loading of 42x20 Containers at the same time for special materials :
Sulphur from Hadeed & ARAMCO
We have a dedicated and Special Handling Team for project Cargo
Crown International Services
Air and Sea Freight & L.C.L. We offer competitive rates for F.C.L. & L.C.L shipments worldwide.
Customs Clearance (Jebel Ali Port(UAE), Riyadh, Dammam and Jeddah Ports).
Road Transportation Across Middle East.
Warehousing - Fully equipped secure warehousing facility at Hamriyah Free Zone (shrajah) with racks.
Inspection - We can arrange professional inspection of your cargo's anywhere in Middle East Asia.
Social Responsibility